Israel Adesanya: I think Gilbert Burns can beat Khamzat Chimaev
by
| VIEW 259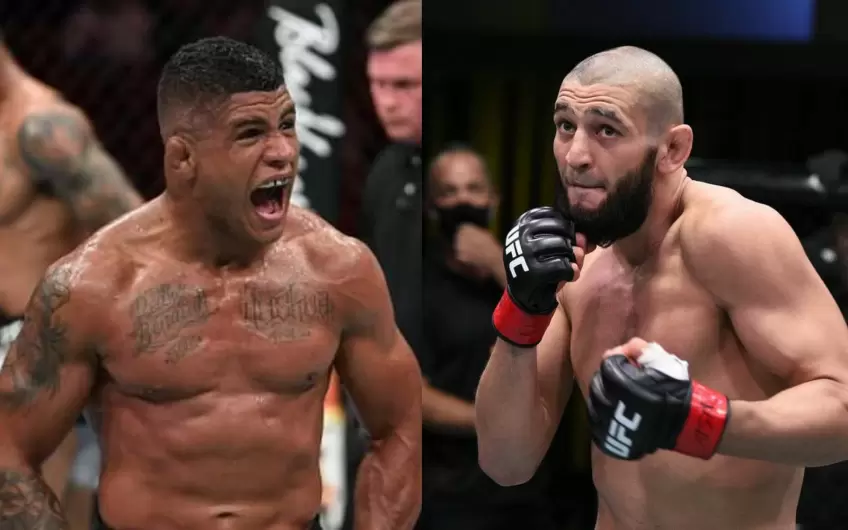 The big favorite is Khamzat Chimaev this weekend in the match against Gilbert Burns. Odds for Chimaev to win are mostly around 1.20, while in a bet on Burns in some bookmakers, you can win 5 times more. The bookmakers underestimated the Brazilian who is the second-ranked welterweight challenger, while Chimaev is currently 11.
Considering that Burns is far more experienced and has been fighting the best in the UFC for many years, the impression is that he is truly underestimated. All this probably further motivates Gilbert Burns, especially when he hears that many former and current fighters also predict his defeat (Bisping, Cormier, Strickland ...).
However, not everyone is against Burns' chances in that fight. UFC middleweight champion Israel Adesanya has revealed his vision of the fight on his YouTube channel. Izzy is one of the few who is in favor of Burns 'win.
'' I know Burns. He is not playing, he is serious about his life. I am glad that he is performing in welterweight because he is much better in that category. But Khamzat ran is in the streak. His latest opponent, 'The Leech' (Li Jingliang) is the most impressive opponent he has beaten so far.
Gilbert Burns is good, but he is often being hitted. Everyone is, but you know what? I'll cheer for Burns. I think he can do the job, '' Izzy explained. Many otherwise forget how Gilbert Burns rocked even Kamaru Usman in the belt fight last year.
Burns had a great first round, but was eventually defeated by a knockout in the third round.
Adesanya vs Chimaev
With a dominant performance against Stephen "Wonderboy" Thompson, Burns returned with victories. Whether he can really do the job or Adesanya is wrong is up to Burns to show us.
Maybe even Adesanya himself doesn't believe so much in Burns' victory, but simply provokes Chimaev, who is also planning a campaign for the middleweight title. Many see Khamzat as stylistically the worst opponent for Adesanya, but there is still a lot of work to be done for the Chechen before he gets a chance to live up to such expectations.
Gilbert Burns is his number one priority at the moment, and we will learn a lot from that match. Khamzat Chimaev is predicted to have a great career, and it can finally be said that someone will be a great threat to Israel Adesanya.
We can't imagine what a match it would be! But before that, Chimaev has to cross other obstacles to get to the top.