Annacone: "Roger Federer has always hidden pain very well"
by
| VIEW 838
Sunday lit up in the evening when Roger Federer posted a video on Instagram, in which he announced that he had to undergo a new operation on his right knee. The Swiss champion flaunted his usual optimism, not closing the doors on his return to the tour for a final catwalk.
King Roger's 2021 is therefore in the archive with only 13 games played from March to Wimbledon. The path of the former ATP number 1 to the Championships was interrupted in the quarter-finals, clearly defeated by Hubert Hurkacz on Center Court complete with bagels in the third set.
The forfeits at the Tokyo Olympics and the American Masters 1000 were only the starter of a decision as painful as it was inevitable. Federer and his clan have always been super reserved regarding the nature of his knee problem, which has been plaguing him seamlessly for a year and a half.
In a recent interview with The New York Times, Paul Annacone, who coached Federer between 2010 and 2013, provided an interesting point of view on the issue. He said: "All I can say after traveling with him for four years is that Roger Federer has always been one of the best at hiding pain.
It is not his habit of him to complain or to let people know that he is not physically alright, he has never used justifications of that kind in the course of his career. Roger always wanted to give the idea that any injury he suffered was much milder than it really was."
The American coach is optimistic that Roger will get up again this time: "Federer is in good hands, I can assure you 100%. We knew that sooner or later, in one way or another, the physicist would present him with the bill.
Rafael Nadal and Serena Williams also experienced it. My hope is that all three will be able to retire in their own way and not because forced by an injury."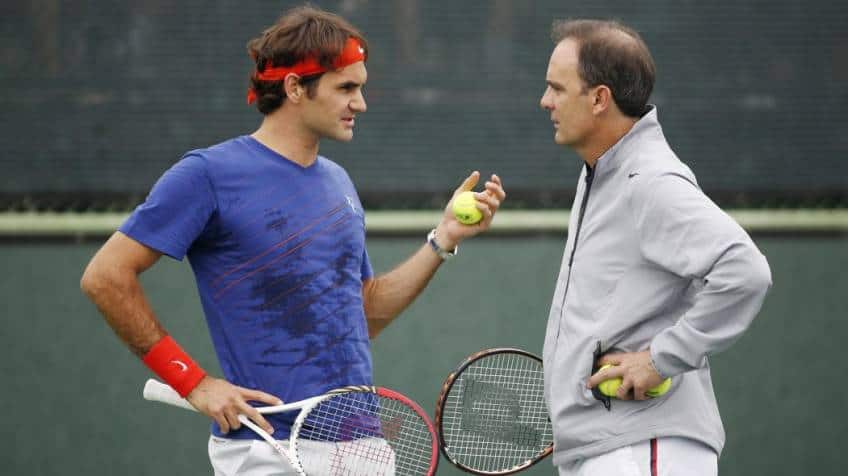 Roger Federer's parents praised their son
A few days before his 40th birthday, Roger Federer's parents Robert and Lynette gave a nice interview to Blick magazine.
His dad Robert said: "Roger Federer looks a lot like me physically. I think he has inherited many traits from me, it is so evident" Then Mom Lynette intervened: "From meshe probably received the discipline and the desire to move.
Perhaps also his talent for hitting the ball." Not even his parents imagined seeing him still on the court at 40. Lynette said: "He has always followed his instinct and his love for sport. In addition, his physique has held up quite well despite the repeated stresses of the past 25 years."
Robert Federer's father added about his amazing son: "It's great that he still lives for tennis. He tried very hard to recover his condition after knee operations, I found it truly admirable. Roger continues to live his dream, we respect him without ever getting too much in the way."
Lynette also said: "Roger Federer has always been a fun, active guy who had lots of friends around him. It was immediately evident that he wanted to play sports. It didn't matter who he was. Skateboarding, biking, ping pong or squash, he just liked to move.
It was not an obligation for him unlike many other children, he did it with pleasure. People have always been amazed by his exceptional talent and naturalness with which hit the ball from a very young age. However, we never imagined such a success."
His father Robert added: "We never had the thought that he was going to be a champion of the sport. We always behaved normally, letting things run as smoothly as possible." The next months for Roger Federer will be crucial after giving up the Masters 1000 in Toronto and Cincinnati.
The former world number 1 suffered a knee relapse during the grass season, having had to give up the Tokyo Olympics and the dream of winning the gold medal in singles. His participation in the last Grand Slam of 2021, the US Open, seems far from obvious, considering that the King has played only five tournaments this year.
Several fans and insiders believe that the 20-time Grand Slam champion is seriously thinking about retiring, thanks to a physicist who doesn't want to leave him alone. The Swiss legend played his last match at Wimbledon, where he surrendered in the quarter-finals to a wild Hubert Hurkacz.
The bagel handed to him by the Pole in the third set had alarmed his countless fans, who had never seen him so helpless on Center Court.