Manchester City new outfits!
by
| VIEW 202
The new Manchester City outfits was presented: especially the Away outfit, on which it is a predominantly black outfit, characterized by a ton-sur-ton printed pattern with copper-colored finishes. The design is inspired by the shapes and geometric patterns of the Castlefield neighborhood and the Bridgewater bridge, both in colors and details.
The Castlefield neighborhood is famous for its industrial past, while today it has become one of Manchester's most vibrant artistic and musical centers, and a center of attraction for the city's youthful and multicultural scene.
David Bremond, Head of Product Line Management Teamsport Licensed of Puma said: "With this kit we wanted to celebrate the culture of the city. We looked for places where people gather to express themselves through art and music.
Castlefield is a neighborhood full of history and meaning for Manchester; symbol of the youth cultural scene and creative roots. The canal bridge has an iconic design that inspired the structure depicted on the shirt. We wanted it to be a special and unique kit for Manchester City fans."
Manchester City outfits for home matches
The new Manchester City shirt for home matches presents the mosaic pattern, with white lines that integrate on the typical blue background of the Citizens. The new shirt is inspired by the style of the city, following the Crafted from culture philosophy.
Puma has created this outfit as a tribute to the characteristic features of Manchester: in fact, there are numerous mosaics on display in the north, testifying to the cultural melting pot of art, industry, football, music, fashion that has always been part of the city's substrate.
The mosaics were also an important part of the club's history, dating back almost 100 years, when the original City mosaic adorned the doors of the Maine Road Stadium for the first time. Mark Kennedy, the artist who made the mosaics of the northern district of Manchester and who inspired the motif of the new Citizens shirt, said: "When I started, the northern district was an abandoned area that I wanted to see rise again.
I started creating the icons of the city using ceramic slabs and tiles, integrating my artistic style. Over time, I have been commissioned by several works of art for the club and today I am proud that they wanted to use my art as a source of inspiration for the new shirt."
This season Manchester City got the second place of the English premier League, behind Liverpool FC. On August club managed by Pep Guardiola will play the round of 16 return match of the UEFA Champions League against Real Madrid CF.
In the first match Man City won at the Santiago Bernabeu for 2-1.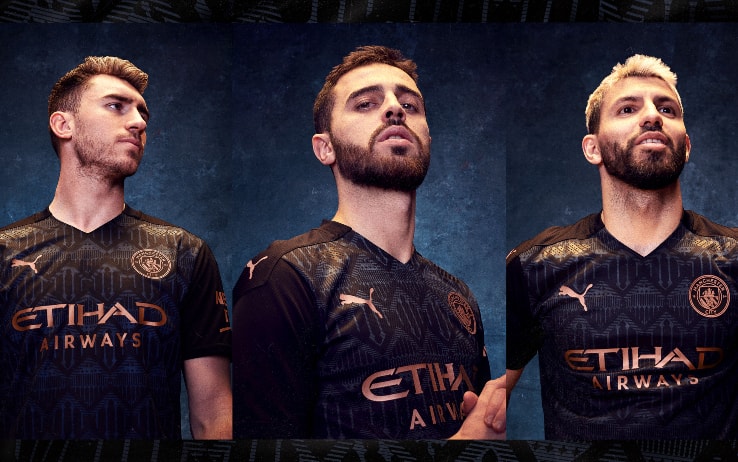 Pcs by Twitter Manchester City