The Fashion Side of Pep Guardiola: From Runway Model to Football Legend
by
| VIEW 1411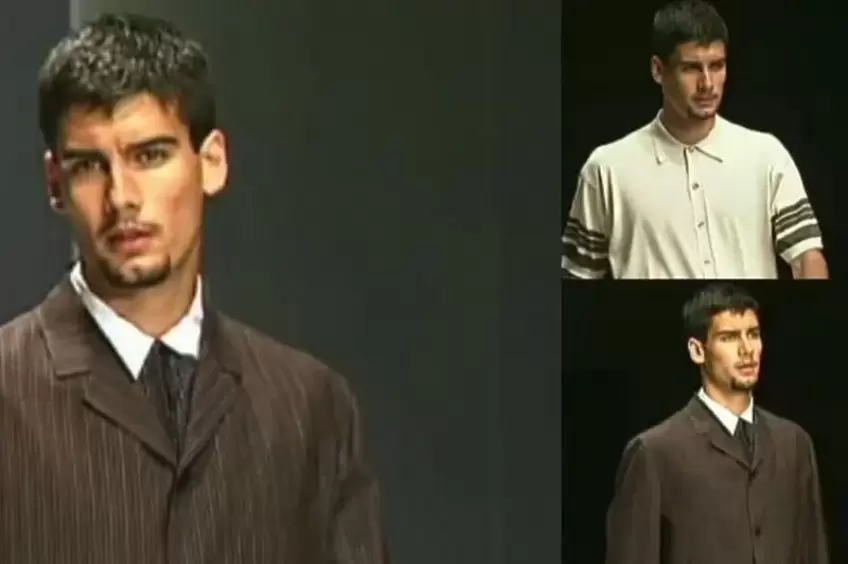 Manchester City's manager, Pep Guardiola, is widely recognized for his contributions to the football world. However, the Catalan native has dabbled in the fashion industry in the past, as a model for Catalan designer, Antonio Miró
.
Stepping Out of the Football World
In 1993, Guardiola, who was then a Barcelona midfielder, was hired to walk the runway in a fashion show organized by Antonio Miró. David Miro, the son of the late designer, revealed in an interview with Mundial magazine that Guardiola was a hit on the runway and that his father, a Barcelona supporter, was thrilled with the collaboration.
However, Guardiola's modeling gig did not sit well with Barcelona coach, Johan Cruyff, who punished the former midfielder for being "unprofessional." Despite the reprimand, Guardiola's modeling career was short-lived, as he learned from the incident and went on to establish himself as one of the most successful football managers of all time.
Guardiola Imposes Restrictions on His Players
Years after Guardiola's fashion debut, Barcelona's defender, Gerard Pique, expressed interest in modeling for Antonio Miró.
However, according to David Miro, Guardiola did not allow it. The younger Miro also mentioned that every garment worn by Guardiola in the fashion show sold out within a few days, demonstrating the former midfielder's popularity among fashion enthusiasts.
Despite the unfortunate consequences of his modeling career, Guardiola remains one of the most handsome football coaches and has been well-received by fans for years. Antonio Miró may have passed, but Guardiola's passion for fashion lives on.
A Pioneer in Football Management
Pep Guardiola is not only recognized for his fashion interests, but also for his innovative approach to football management. Throughout his career, Guardiola has implemented a distinct playing style, often referred to as "tiki-taka," that emphasizes possession and quick passing.
He has also been credited with revolutionizing the role of the defensive midfielder, turning the position into a creative force on the pitch. Guardiola's success with Barcelona, Bayern Munich, and Manchester City has established him as one of the greatest football managers of all time.
His teams have won numerous titles, including multiple league championships and the Uefa Champions League. With his unique strategies and attention to detail, Guardiola continues to push the boundaries of what is possible in football and leaves a lasting impact on the sport.
Pep Guardiola
Manchester City