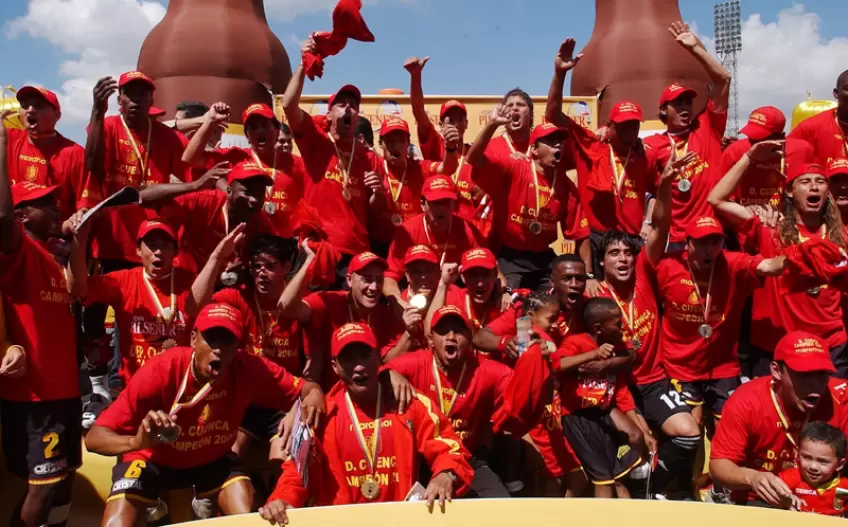 Club Deportivo Cuenca is one of the largest soccer clubs in Ecuador, and one of the most famous clubs in South America. The club was founded in 1971 by Alejandro Serrano Aguilar, at the time mayor of the city, and by Polibio Vázquez and Alfredo Roca.
The club is based in the city of Cuenca and plays in the top flight of the Ecuadorian Soccer League. The city institutions strongly supported the foundation, which initially took place under the name of Franela Roja. Through the session held in February 1971 in the Salón de la Ciuda of the Illustrious Municipality of Cuenca, the project became a reality, and it was then that Deportivo Cuenca was born.
A month later, the Association of Soccer financed the Asociación de Fútbol no Amateur del Azuay (AFA). As a club the first decisions were made: the uniform would be yellow and red with a vertical rayed shirt, the first Technical Director was Carlos Alberto Raffo, the first foreign players to contract were Rodolfo Piazza, the Paraguayan Luis Martínez who scored the first team goal, and Gerald Laterz.
Deportivo Cuenca had a short period of success in the 1970s, becoming runner-up twice in 1975 and 1976. The favorable results allowed them to participate in the Copa Libertadores the following year. Throughout the 80s and 90s, the club came and went from the second tier Serie B.
It returned to Serie A in 2003 and in 2004 became the second club outside Quito or Guayaquil to win the national championship. Since then, they have finished in the top three in three of four seasons, following them from participating in five of six Copa Libertadores.
The victory of the championship in 2004
In 2004, Deportivo Cuenca won its first championship in its history. The trial began with Argentine manager Daniel Córdoba, who is joined by Javier Klimowicz, Marcelo Velazco and the club's national team Giancarlos Ramos.
After a successful first phase, in the middle of the season, the Cordoba coach left Cuenca already qualified for the playoffs and signed his replacement Julio Asad. The title was secured on 8 December 2004, with two games remaining in the tournament, when Deportivo Cuenca with 19.5 points was unattainable for Barcelona and Olmedo who were second.
Cuenca won 3–2 against Auca Quito that day, but the match begins between the match after the end of the Nacional and LDU Quito. The tie produced between those competitors allowed the Morlacos to be unattainable. Fans took to the streets to celebrate, thousands of vehicles honked their horns, with rocket explosions and fireworks in the sky.
The conquest had aroused a joy story in the fans by forcing the opening of the stadium where thousands of fans cheered the team.