29 year-old Cameron Dale died at the Gold Coast University Hospital. His death was confirmed on Instagram by his girlfriend Jessica Watson, who wrote: "On Monday, 30 August 2021 we lost our Cam - my long-term partner in every aspect of life and planned future.
Cam passed away peacefully nearly six weeks after a catastrophic stroke. We'll be forever grateful for the dedicated care he received at the Gold Coast University Hospital. Our shared world centered on messing about on boats.
Describing what Cam means to me is impossible - everyone who knows us understands how much we simply loved each other. Even while experiencing indescribable grief, I feel so grateful for the family, friends, and communities Cam has given me and the person I've become with him.
I take enormous strength from having been so devotedly loved. The years of treasured memories offer enormous comfort. Being Cam's Jess is the role I'm most proud of." Death from stroke, according to some local media, would have followed the path against COVID-19, but there is no evidence of a correlation between the two.
Anyway, the cases of young sportsmen who collapse during competitions or who are diagnosed with heart disease following the administration of the anti-covid vaccine are multiplying, in some cases the connection is evident in others to be verified but the frequency of these cases in recent months is at least disturbing.
Pic by Jessica Watson's Instagram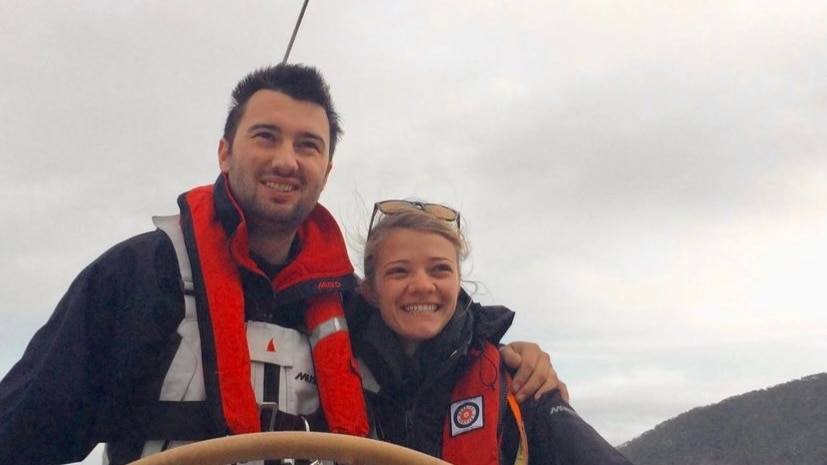 Bert Smith's collapse from blood clot after vaccine
Bert Smith was refereeing the NCAA Elite Eight match in Indianapolis when he suddenly collapsed next to the Gonzaga bench. Medical personnel and other staff members rushed towards him.
Smith had a blood clot in his lung, the Indianapolis Star reported. Smith regained consciousness and was alert as he was carried off the ground on a stretcher. Medical staff at Lucas Oil Stadium treated Smith, who later went to a local hospital.The collapse, it turned out right in the hospital, was linked to a blood clot in his lung.
Smith said to Gregg Doyel of the Star, "You don't know where that clot would go. It puts each day's worth into perspective, because we all go through our lives, we're all guilty, and we just live, right? Enough: Do I love you? Do we give enough an extra hug? Do we do things with our family and friends that have value to them? When you experience something like I did, it hits you in the eye that you really have to value every day." Gonzaga manager Mark Few said he went to Smith to offer his support as Smith was put on a stretcher: "He's a great officer, a great person.
I mean, I was just shocked and scared for him, but I've been able to stick my head in there a little bit and see he was talking and coherent and I tried to say a quick prayer for him and just wished him the best. " Smith allegedly had this collapse due to a blood clot after administering the COVID-19 vaccine, according to local media.