Joe Burrow Out for Season, NFL Probes Injury Report
by
NOUMAN RASOOL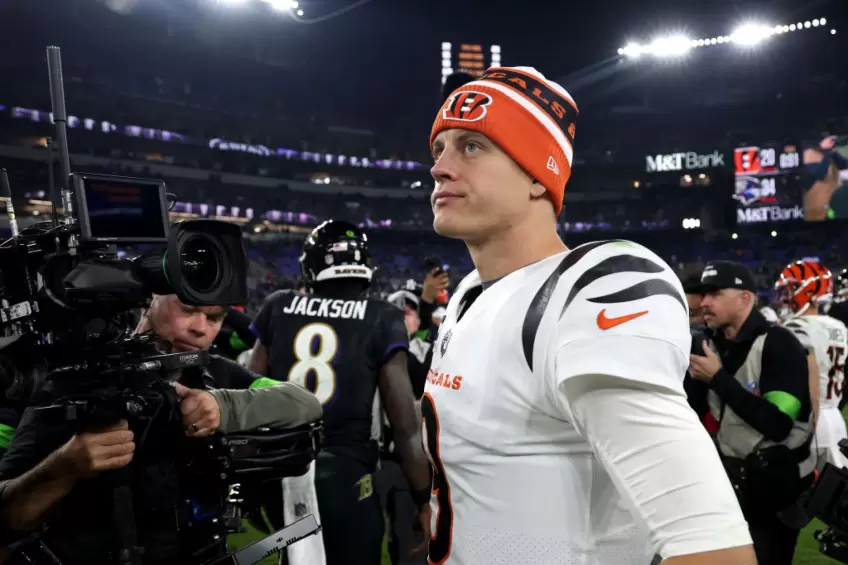 In a significant blow to the Cincinnati Bengals, star quarterback Joe Burrow will miss the rest of the season due to a right wrist ligament tear. This injury, sustained in the Bengals' recent 34-20 defeat to the Baltimore Ravens, has triggered an NFL investigation into the team's injury reporting practices.
Bengals head coach Zac Taylor, in a statement on Friday, announced the unfortunate news, revealing that surgery is likely for Burrow. The quarterback expressed deep disappointment over this setback, which occurred during a pivotal moment in Thursday's game.
After delivering a go-ahead touchdown pass to teammate Joe Mixon, Burrow was visibly in pain, hinting at the severity of the injury.
Burrow's Injury Moment
The incident unfolded swiftly. Burrow, after a successful touchdown pass that put the Bengals in the lead, struggled with wrist discomfort.
Despite attempts to continue, the intensity of the pain forced him off the field. Reflecting on the moment, Burrow shared, "I landed on the wrist a bit, felt a pop during the throw, and knew something was wrong." Coach Taylor attributed the injury to an earlier tackle by Ravens' Jadeveon Clowney, a seemingly routine play that had unforeseen consequences.
This is not Burrow's first encounter with serious injuries; his debut season in the NFL was cut short due to a major knee injury. Despite these setbacks, Taylor remains optimistic about Burrow's resilience and mental fortitude, describing him as "differently wired" and capable of overcoming such challenges.
Intriguingly, Burrow had been seen wearing a wrist brace earlier in the week, yet he wasn't listed on the injury report for Thursday's game. This discrepancy has prompted the NFL to investigate the Bengals for potential violations of the league's injury report policy.
The NFL emphasizes that such probes are standard in similar scenarios. Joe Burrow, a key figure in the Bengals' recent Super Bowl appearance and AFC title game, became the NFL's highest-paid player with a record $275 million contract extension through 2029.
His absence leaves a significant void, with the team now turning to backup quarterback Jake Browning. As the Bengals prepare for their upcoming clash with the Pittsburgh Steelers on November 26, they face the daunting task of navigating the season without their marquee player, a challenge that will undoubtedly test the team's depth and resilience.
Joe Burrow
Bengals
• NFL Receives Bengals Footage Confirming Joe Burrow Health Status
• Burrow's Wrist Injury Deals Major Blow to Bengals' Playoff Hopes
• Ravens vs. Bengals: Week 11 TNF Inactives Revealed
• Joe Burrow's Game Tonight: Bengals' $275M QB Causes Buzz
• Bengals-Ravens Showdown: Key to Cincinnati's Super Bowl Dream
• Who's Announcing the NFL Week 9 Bengals vs. Bills on NBC's SNF?