Luka Doncic Enjoys Summer Break on the Croatian Coastline
by
FARUK IMAMOVIC
There's something quite idyllic about the Croatian coast, with its sapphire blue sea, ancient towns, and mouth-watering local cuisine. It's no wonder that it attracts millions of tourists from all over the globe each year, including celebrities and sports icons like Cristiano Ronaldo, Manuel Neuer, Novak Djokovic, and Valentino Rossi.
This summer, the famed Croatian coastline has had the pleasure of hosting one of basketball's most brilliant players, Luka Doncic.
The Croatian Escape
Luka Dončić, the Dallas Mavericks' superstar, is known to frequent the Croatian coast whenever he gets a break from his rigorous NBA schedule.
This summer has been no exception. Alongside his girlfriend, Anamaria Goltes, Doncic is currently making the most of his off-season on the sun-kissed island of Rab. The Croatian media recently shared an intimate glimpse of the basketball sensation enjoying an evening in the picturesque coastal town.
The image portrays a relaxed Doncic, comfortably tucked away in a local restaurant, basking in the evening's ambiance and feasting on a well-earned burger with cheese. As one local bystander noted, "They docked with the yacht and then had dinner in a restaurant.
Luka ate a burger with cheese."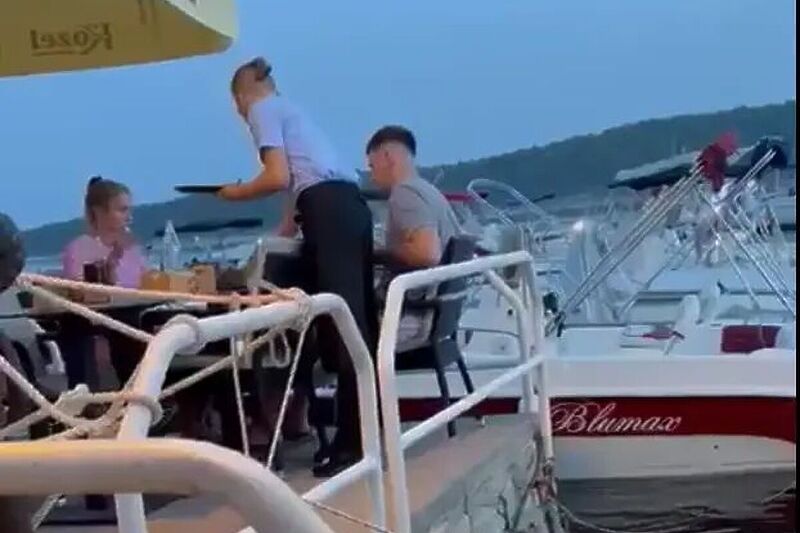 A Stellar Season
Doncic's coastal retreat follows an extraordinary season with the Mavericks. Sporting the Mavs jersey, the Slovenian basketball virtuoso has had an incredible year, averaging 32.4 points, 8.6 rebounds, and eight assists, with a nearly 50 percent shooting average.
As the summer ebbs away, fans and spectators worldwide are looking forward to seeing Doncic back in action, this time at the World Cup. The Slovenian national team, with Dončić leading the charge, is anticipated to play in a group with Venezuela, Georgia, and the Green Democratic Republic.
As he relishes his summer break on the Croatian coast, Luka Doncic reminds us that even the most prominent figures in the world of sports need a breather. And when it comes to rejuvenating breaks, few places can compete with the natural beauty, serene ambience, and culinary delights of the Croatian coastline.
Luka Doncic