Jayson Tatum makes one thing clear regarding Celtics
by
DZEVAD MESIC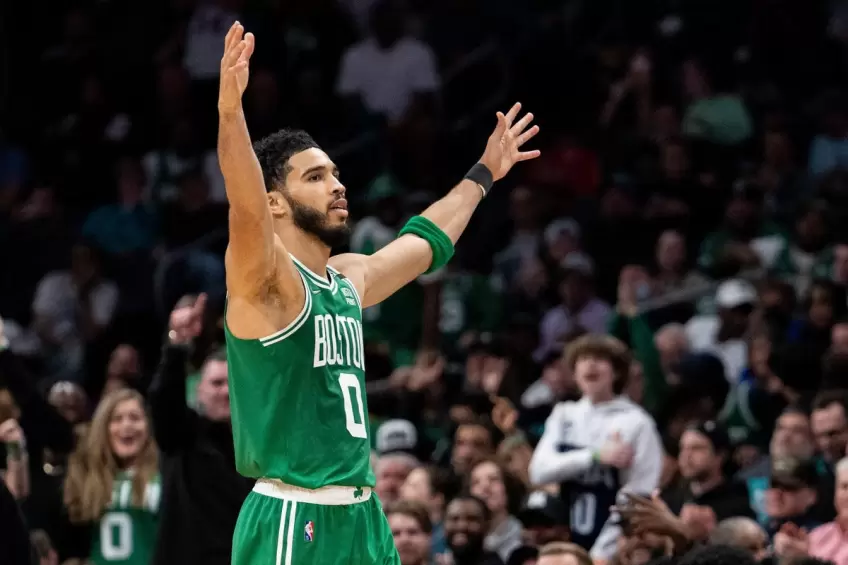 Jayson Tatum underlines that the Boston Celtics are far from finishing the job as he insists the team will be satisfied only when it wins an NBA championship. The Celtics, who were beaten by the Golden State Warriors in last year's NBA Finals, have started this season with a 21-5 record.
With that record, the Celtics sit at No 1 of the Eastern Conference standings. "Everybody in the locker understands what we're trying to do. We realize that got the best record with 21-5. With that comes a decision every night to play the right way, to play as hard as we can on both ends.
I wouldn't say we're playing angry. We're having a lot of fun. The goal is still the same – get back in the Finals and get over that hump. While we are having fun and are happy with the way we're playing, nobody in that locker is celebrating or satisfied with where we're at.
None of this means anything if we don't hang a banner. That's the ultimate goal," Tatum said.
Tatum, Jaylen Brown leading the Celtics
Tatum and Brown, the Celtics' star duo, have been absolutely great at the start of this season and that's a big reason why the Celtics have been winning a lot so far this year.
Luka Doncic, who is also having a great start to the year, recently called Tatum and Brown the best duo in the NBA. "They're probably the No. 1 team in the league, and they probably have the best duo in the league, too. And we're in the Garden -- it's always a special game.
You have to come 100 percent. If you're not, you're probably going to lose. It's a big game. Just watching their game. I think a lot of people can see that. I think the way they play. I know people try to separate them but they fit together, they went to the Finals last year, so I think those two are really great players.
They have one of the best records and they're missing I think a key guy, Williams III. I am impressed by his game, have always liked his game. So with him being out, and them having this record, that's why I said that," Doncic said of Tatum and Brown.
Last year, Tatum and Brown fell just short of delivering Boston a championship. This year, Tatum and Brown are determined to lead the Celtics to another big season.
Jayson Tatum
Celtics