Joel Embiid reacts to coming up clutch in 76ers' win over Hawks
by
| VIEW 211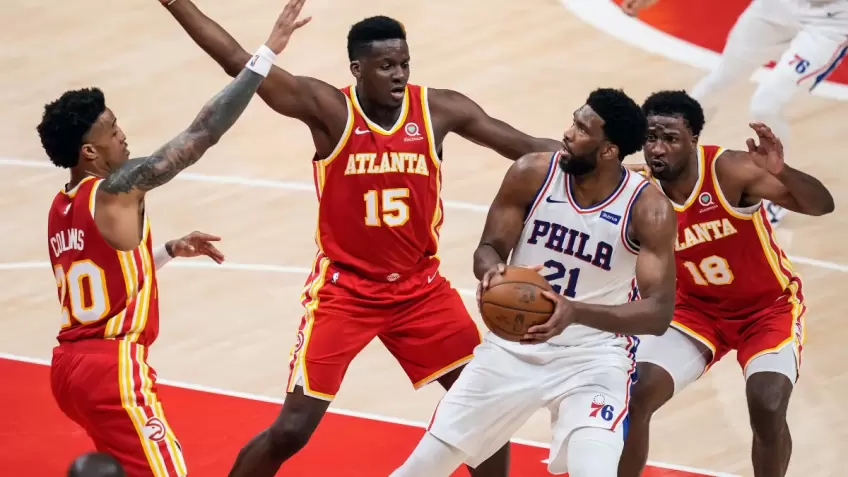 Joel Embiid enjoyed a strong return on Monday night as he led the Philadelphia 76ers to a big comeback win over the Atlanta Hawks. The 76ers, who were down by double digits to the Hawks, ended up winning the game 103-100.
After missing four games due to an injury, Embiid returned to action on Monday as he had a game-high 30 points, eight rebounds and seven assists. "I came in with the mindset to get my teammates involved, because everybody has had it going and they've been playing so well.
So I wanted to keep that going and find myself playing within that," Embiid said, per ESPN.
Embiid on the key play he made
After knocking down a two-pointer to give the 76ers a 101-100 lead, Embiid tipped Trae Young's pass that was directed to John Collins.
Embiid made an incredibly smart play as he tricked Young into tricking he was coming to guard him - but when Young threw a pass to Collins - Embiid backed and tipped the ball, before grabbing it. Then, Embiid hit two free throws on the other end to secure a 103-100 win for the 76ers.
"In that situation, from the start of the play, you could tell he thought we were going to trap him. They were going to try to set a screen for him to try to get me on him. We were going to go 1 through 5 anyway, so I was going to have to guard him straight up anyways, but the way I positioned myself I acted like we were going to try to trap him and take the ball out of his hands.
As the best player on the team, you want the last shot, and you want to be able to make the last plays to make sure that your team wins. In that situation, that's why he ended up sending whoever I was guarding away to try to go one-on-one, and I just tried to play a cat-and-mouse game.
I had him thinking he had a wide-open layup, while at the same time I knew I was giving that space for a reason, because I watch a lot of games. He's not selfish. He doesn't make that type of play if someone isn't open. I was just trying to bait him, and it did work.
In some instances, it doesn't work, it could have been a bad play, or a bad read by me, but in that situation it did work, so I was happy," Embiid explained. Now, the 76ers own a 12-9 record.