Denny Hamlin knows how to 'provoke' the crowd: Interesting reaction
by
SEAD DEDOVIC
| VIEW 411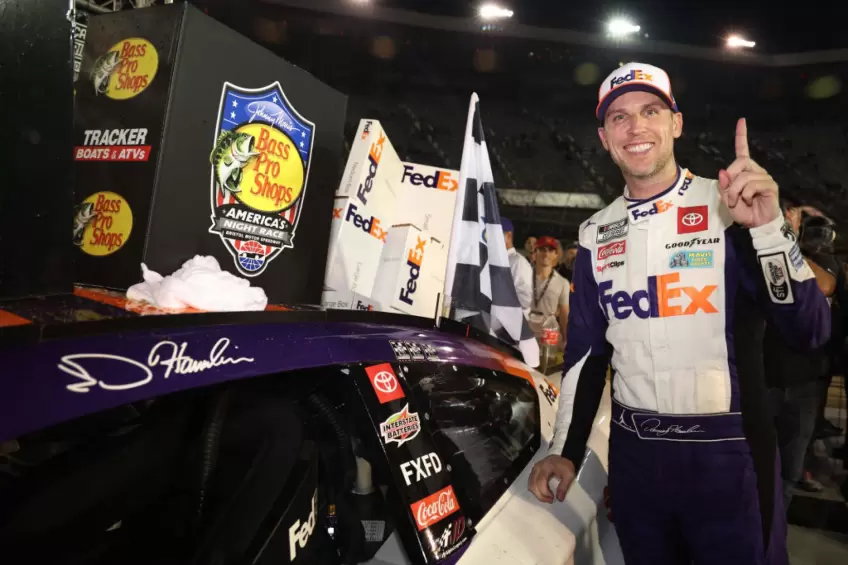 Denny Hamlin once again shows how great he is after winning the Bristol Race. Hamlin had no doubts that he could achieve a good result, and his confidence brought him another phenomenal result. The crowd was obviously not happy with Hamlin's victory, as they decided to boo him.
This "provoked" Hamlin even more. He made an interesting statement after the race. First of all, he thanked his team, without whom nothing would have been possible. "Everybody likes a winner, right?" - he asked, as quoted by on3.com!
"Can't thank this whole FedEx team enough, they've really kicked ass this whole first round. Just amazing how good our team has been. I'm just so happy about the way we're going and can't wait to keep going".
Denny believes 'this is their year' However, he had to 'poke' the crowd again. "It's our year, I just feel like we've got it all put together. We've got the speed at every type of race track. Nothing to stop us at this point.

I beat your favorite driver." Is there a specific one? "All of 'em". - Hamlin said.
Bubba Wallace and his reaction
Bubba Wallace also managed to move into Round 12. Wallace was delighted after the race, and he did not forget to mention the crowd.
In response to the crowd's booing, Wallace said; "God I love that **** right there. Counted us out. Like Coco Gauff said, all they're doing is adding fuel to the fire, I love it. Love where I'm at in this team.
Wish mom and dad and my sister were here to celebrate with me. I'm in a career year. Just gotta keep it going, appreciate all the partners involved. Columbia's done great when they're on the car, I hate it for them last week." We hope that great things await us in the future.
Denny Hamlin
Denny Hamlin wants to buy the track he drove on as a teenager
Denny Hamlin on expectations before Bristol and his interesting decision
Denny Hamlin reveals who is the biggest threat to him in the rest of the season
Denny Hamlin on Trackhouse Racing signing Shane Van Gisbergen and Zane Smith
Denny Hamlin: I welcome any fan who want to come to the dark side
Denny Hamlin delighted with Bubba Wallace's progess: He's doing well