Albert Pujols: "I'm still going to retire, no matter whether.."
by
| VIEW 654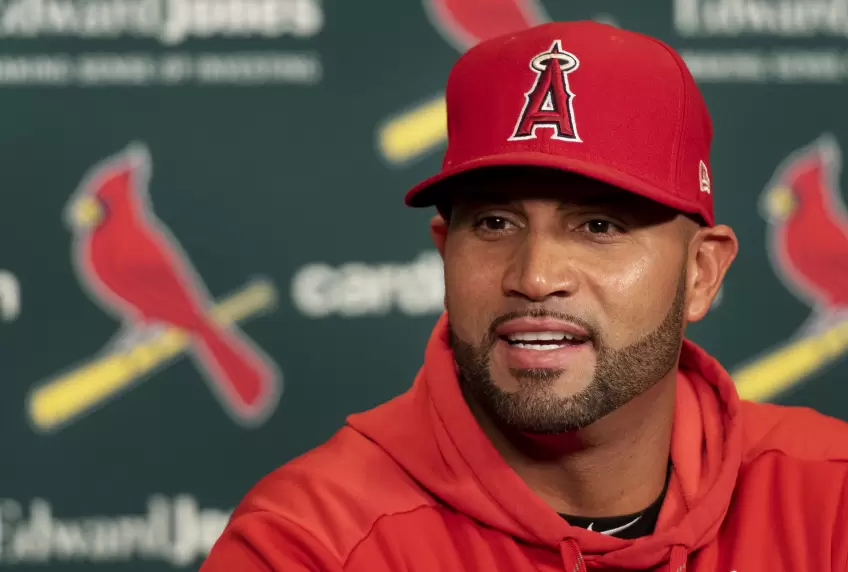 Albert Pujols excelled in the Cardinals' 16-7 win over the Arizona Diamondbacks on Saturday night. This hitter was focused during the entire match and knocked out his 691st and 692nd home run. Pujols broke one big record; He is now second all-time in career total bases with 6,143.
Albert is not surprised by his success, considering that from the beginning of his career he was focused on becoming a great player, and achieving such successes. "That's all the hard work that I put in, day in and day out," Albert Pujols said.
"Nothing surprises me". "I'm still going to retire, no matter whether I end up hitting 693, 696, 700, whatever,'' Pujols told USA TODAY Sports. "I don't get caught up in numbers.
If you were going to tell me 22 years ago that I would be this close, I would have told you that you're freakin' crazy. My career has been amazing.'' First baseman Paul Goldschmidt was also impressed by Pujols.
Goldschimdt thinks the things Pujols is doing are impressive. He surpassed many Hall of Famers and broke many records- "What he's doing is superhuman," Goldschimdt said. "That guy is amazing. You see these stats and he's passing Hall of Famers.
He's a first-ballot, if not unanimous, Hall of Famer. He's incredible. Even to do half of what he's done is an amazing career".
Oliver Marmol on Pujols
St. Louis manager Oliver Marmol is delighted with the players.
He emphasized that it takes a lot of effort and sacrifice to become a great player like Pujols is. However, it is not only about Pujols, the other players on the team also showed dedication, commitment, and willingness to go to the very end.
"This is what always comes to mind, is just the amount of sacrifice that goes into having a career like that," St. Louis manager said after the great game. "These guys have dedicated themselves to being great. And at the end of the day, they'll walk away being some of the greatest players to ever play this game.
It's fun to have a front-row seat". Arizona Diamondbacks manager Torey Lovullo also decided to praise Pujols. Lovullo considers Pujols one of the greatest. Pujols has dominated the MLB scene for many years. It's fascinating how motivated he is in every match and ready to give his all.
MLB seems to be his first love. "I think all the baseball fans that are here watching Albert Pujols understand that they're watching somebody who's pretty special, who's done it at a very high level for a very long time, and he's just so professional and just such a good human being that I think the fans appreciate that".