Lewis Hamilton is the new NFL Denver Broncos shareholder
by
LORENZO CIOTTI
Lewis Hamilton has joined the NFL owned Denver Broncos group. It is not a first time for the British driver. Hamilton had shown interest in taking over Chelsea from Roman Abramovich, along with Serena Williams. With the English driver that he confirmed to be part of one of the consortiums that had submitted an offer for the purchase of the Blues.
Then, however, he did not do anything more with the English club which was taken over by a group led by the American entrepreneur Todd Boehly. Now a new chapter in American football opens up for Sir Lewis.
Lewis Hamilton invests in the NFL!
Announcing Hamilton's entry into the company, Rob Walton said: "We are delighted to welcome seven-time Formula 1 World Champion Sir Lewis Hamilton to our owned group. He is a champion who knows what. serves to lead a winning team and a fierce advocate of global equality, even in his own sport.
With over 100 race wins, Lewis is regarded as the most successful F1 driver of all time. His resilient spirit and his standards of excellence will be an asset to the ownership group and the Broncos organization. " The British driver wrote on Instagram: "Excited to join an incredible group of owners and become part of the Denver Broncos history.
This is a once in a lifetime opportunity to make an impact on the sport and work with a team of world renown. I am ready to start and set an example of the value of more diverse leadership in all sports."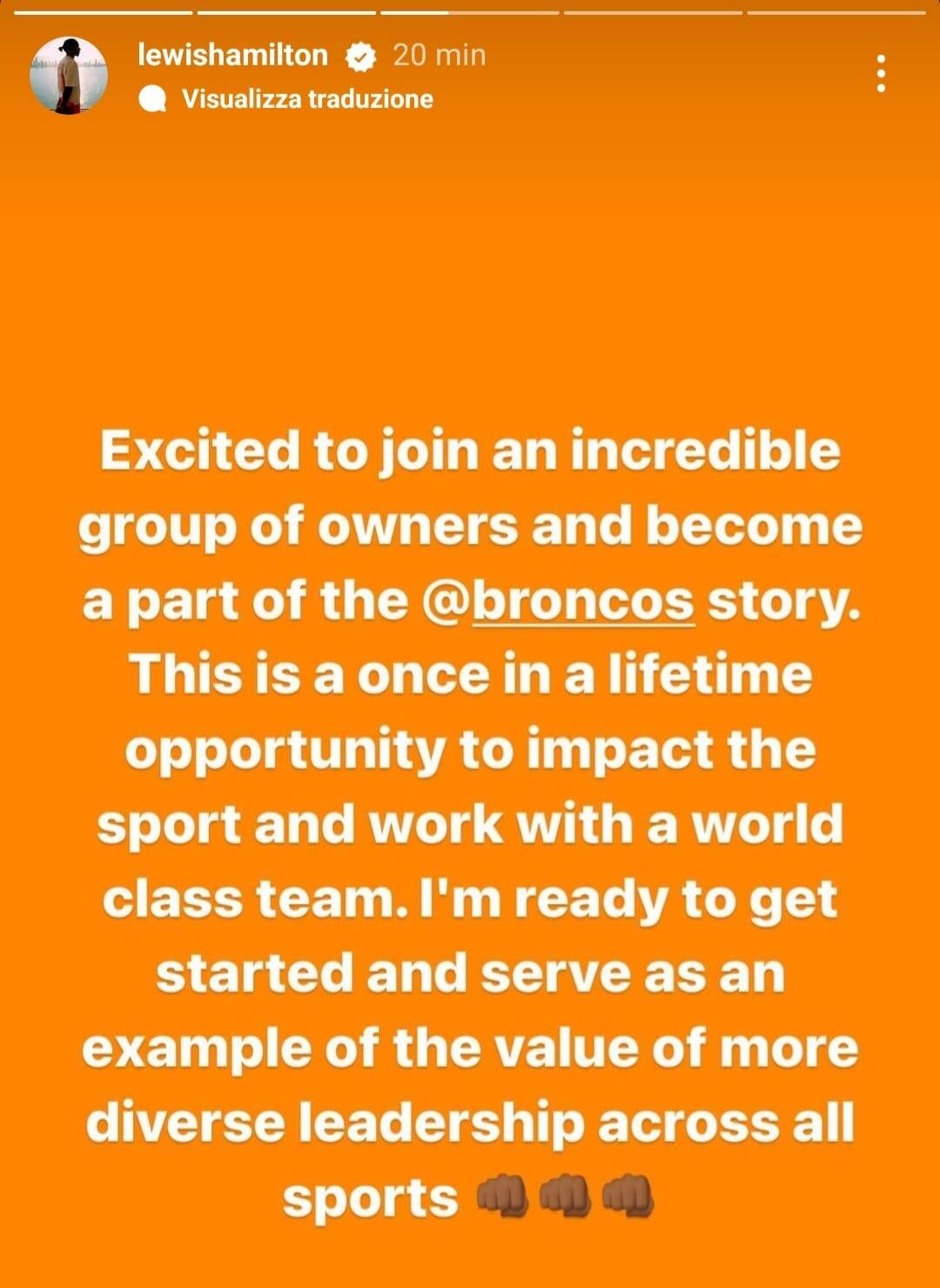 Lewis Hamilton
Denver Broncos
• Horner confirmed Lewis Hamilton's team contacted Red Bull: Hamilton denied it
• The director of Red Bull revealed that Lewis Hamilton wanted to join his team
• Nico Rosberg believes that Lewis Hamilton will fight for the championship next season
• Lewis Hamilton takes snapshots of every opponent's car
• Denver Broncos remain undefeated, Giants beat Washington in NFC East derby
• Lewis Hamilton and Toto Wolff explain what went wrong in Las Vegas