Fernando Alonso & Andrea Schlager End Their Love Story
by
| VIEW 247
Spanish Formula One driver, Fernando Alonso (41), and Austrian sports journalist, Andrea Schlager (40), have ended their romantic relationship. In a heartfelt post on social media, Alonso confirmed the news and shared his gratitude for the support of their followers
.
The End of a Romance, The Beginning of a Beautiful Friendship
The relationship between Alonso and Schlager began in May 2022, when they were first spotted together at the Formula One Grand Prix in Miami. The duo quickly became a fan favorite, with their love story capturing the hearts of many.
In his post, Alonso confirmed that while the romantic aspect of their relationship has come to an end, their bond as friends will remain strong. "We wanted to tell you that our relationship as a couple ended," wrote Alonso.
"We have been lucky enough to share a fantastic time together, and it will continue to be so, but on a different form of affection."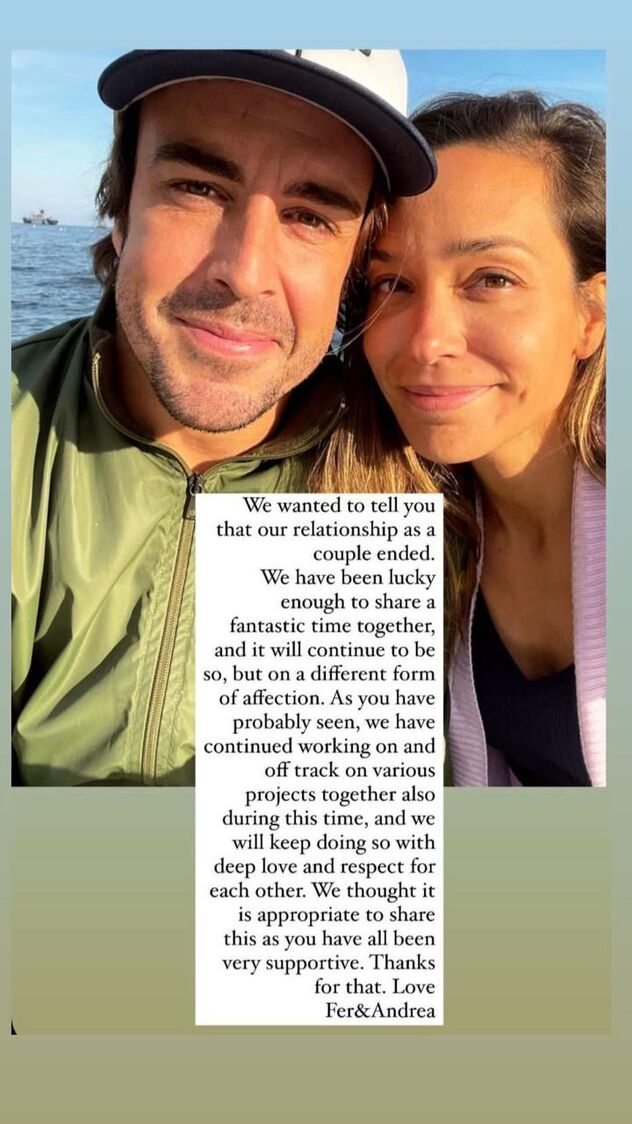 Schlager, who is a well-known TV presenter and reporter, covering major sports events such as Formula One, MotoGP, and tennis, echoed Alonso's sentiment in her own post.
The brand ambassador for Spanish car brand Cupra shared a photo of Alonso moments after he secured a stunning podium at the Bahrain Grand Prix, writing, "I've never seen more determination, will power, and hard work. I am happy for you from the bottom of my heart."
Continuing to Work and Love Together
Despite the end of their romance, the duo have pledged to continue working together on various projects, both on and off the track.
In his post, Alonso writes, "We have continued working on and off track on various projects together also during this time, and we will keep doing so with deep love and respect for each other." While the end of Alonso and Schlager's romantic relationship may come as a surprise to some, it is evident that their bond as friends will only continue to grow stronger.
Fernando Alonso