Audi in Formula 1 since 2026
by
| VIEW 368
Audi in Formula 1 since 2026
. This was announced by the Ingolstadt car manufacturer at a conference in Spa. The press conference was attended by the president of the FIA ​​Mohammed Ben Sulayem, the president of F1 Stefano Domenicali, the president of Audi Markus Duesmann and the director technician Oliver Hoffmann.
Audi will enter as a supplier when the new engines are introduced in the World Championship. It is the first time in over ten years that an F1 powerplant has been built in Germany. In a statement, Audi explained: "Audi will enter as an engine supplier when Formula 1 introduces the new engines in 2026.
Formula 1 is both a global stage for our brand and a highly stimulating development laboratory. The combination of high performance. and competition is always an engine of innovation and technology transfer in our sector. With the new rules, it is the right time for us to get involved.
After all, both Formula 1 and Audi pursue clear sustainability goals. In light of the great leaps. technologies that the series is making towards sustainability in 2026, we can talk about a new Formula 1. Formula 1 is transforming, and Audi has decided to introduce a new emissions management system.
A close link between our Formula 1 project 1 and Audi's technical development department will help create synergies."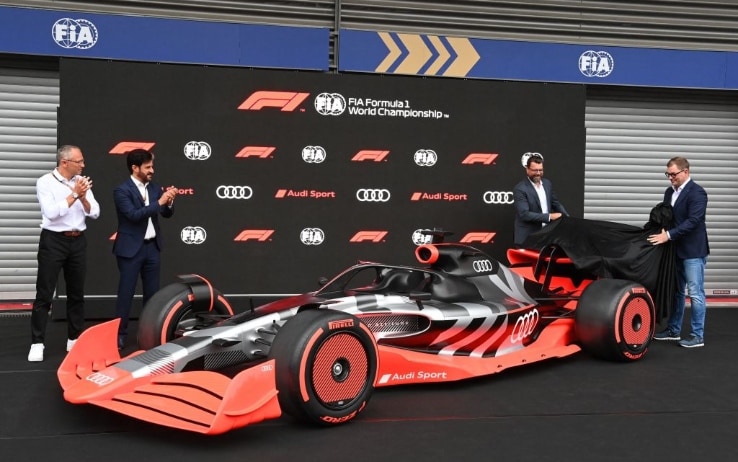 Verstappen on Ferrari
Verstappen talked about also his relationship with Mercedes and Ferrari: "I prefer the current challenge with Charles Leclerc rather than the one of the past years with Lewis Hamilton.
I know Leclerc very well, he is a good guy, we are the same age. We are fighting against a respectable opponent like Ferrari: if they win we can congratulate them and if we win we can do the same. We know the people of their team well, even with Mattia Binotto I have an excellent relationship.
Not only with him, even Gino Rosato is always around making jokes and I think it's fantastic because this is the meaning of racing: tough competition on the track, always trying to beat the opponent, but you can get along well outside.
This is what I really appreciate about the current season. The relationship with Mercedes? Let's put it this way: I wouldn't spend my Saturday night at the same table laughing with them, I don't know why. The relationship with Ferrari at the moment is beautiful and in general I always have respect for Ferrari."