ICC World Cup 2023| 33rd Match: IND secure an enormous win against SL!
by
ARYAN LAKHANI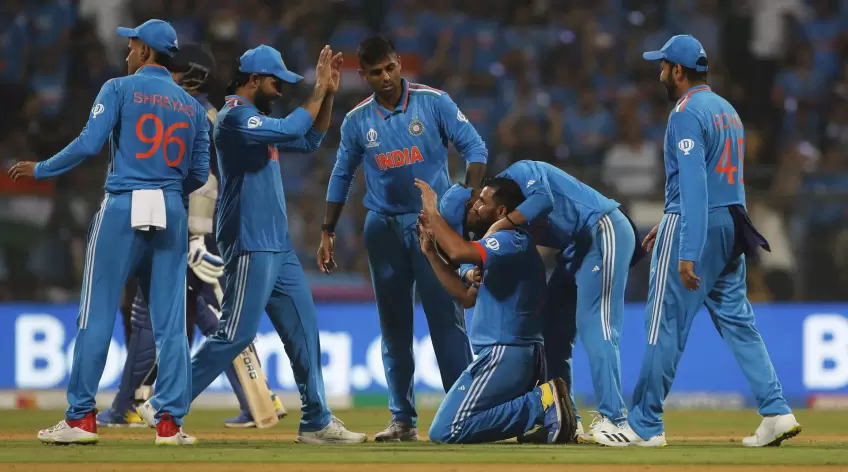 Today's match was nothing but a close recap of the Asia Cup 2023 finals. Sri Lanka won the toss and elected to bowl first – a decision they will regret for a long time. Dilshan Madhushanka got Rohit Sharma out on the 2nd ball; Sri Lanka dropped a lot of catches after that dominating moment, which may have cost them the match.
Kohli and Gill were both dropped, taking full advantage of their extra life; they batted tremendously and accelerated Team India's run rate. Nothing was majorly wrong with the Indian Batting lineup. Shreyas Iyer also played a valuable knock that allowed India to set a giant total of 357 runs (357-8), setting a target of 358 runs for Sri Lanka.
Sri Lanka's collapse started from the very first ball in the 2nd innings; Jasprit Bumrah, Mohammed Siraj and Mohammed Shami totally swallowed the Sri Lankan batting lineup and replayed the Asia Cup finals.
India's flawless bowling bowled out Sri Lanka at 55 runs! (55-10) in 19.4 overs. Thus, India won the match by 302 runs and became the first team to qualify to the semi-finals.
Post Match interviews
Rohit Sharma (India's Captain)
"Very happy knowing that we have officially qualified now," Sharma said, as quoted by cricbuzz.com.
"Been a good effort from the squad, when we started off in Chennai. This was our goal, to qualify first and then obviously to be in the semis and the finals. The way we approached these 7 games, it was quite clinical. Everyone put in the effort and a lot of individuals have put their hand up.
Was a good challenge to put runs on the board, and that's the kind of template you gotta have when you want to score that many runs. 350 on any pitch is a very good score and a lot of credit to the batting unit for taking us to that score and the bowlers did the job obviously.
Shreyas is a very strong (in his mind) lad and today, as you saw, he went there and did what he is exactly known for and that is what we expect from him".
Kusal Mendis (Sri Lanka's Captain)
"I am very disappointed with the team's performance, with myself also," Mendis said, as quoted by cricbuzz.com. "They bowled really well, little bit of seam movement under lights as well.
Unfortunately, we lost the match. I wanted to bowl first because I felt the wicket would be slow in the first half. Madushanka bowled really well and we missed taking chances from Virat and Gill and sometimes those moments could change the game.
Our bowlers did well in the middle overs. They bowled really well in the first 6 overs, and I think they deserve all the credit tonight. We have another 2 games and I hope we come back strong in the next game".